CORE SUBJECTS
The DP core lies at the heart of the programme and reflects the IB's strong commitment to the principle of developing the whole person.
The three elements of the core individually and collectively illuminate what it means to experience a DP education, and are driven by the IB's mission "to develop inquiring, knowledgeable and caring young people who help to create a better and more peaceful world through intercultural understanding and respect" (IB mission statement).
The core strives to make a difference to the lives of students. It should provide opportunities for students to think about their own values and actions, to deepen their understanding of their place in the world and to sensitively consider the contexts and views of others.
Every DP student must complete the three core elements.
Creativity, Activity, and Service (CAS)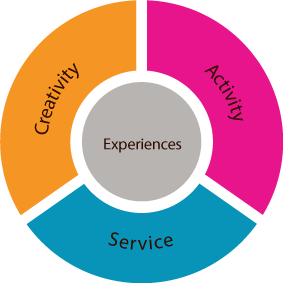 CAS is organized around the three strands of creativity, activity, and service. CAS enables students to demonstrate attributes of the IB learner profile in real and practical ways, to grow as unique individuals and to recognize their role in relation to others. Students develop skills, attitudes and dispositions through a variety of individual and group experiences that provide students with opportunities to explore their interests and express their passions, personalities and perspectives. CAS complements a challenging academic programme in a holistic way, providing opportunities for self-determination, collaboration, accomplishment and enjoyment.
CAS activities by IB DP students
"The extended essay is a unique opportunity for students to explore an academic area in which they have a personal interest. This takes the form of an independently written research paper that allows students to demonstrate their passion, enthusiasm, intellectual initiative and/or creative approach for their chosen topic. Such topics can range from focused, in-depth analyses of specific elements of a subject to critically evaluating responses to issues of global significance in the case of the world studies extended essay.
Students develop important transferable skills such as research, critical thinking, and self-management, which are communicated in the form of an academic piece of writing. Emphasis is placed on engagement and reflection on the research process, highlighting the journey the student has made on an intellectual and personal level and how it has changed them as a learner and affected the final essay."
Theory of Knowledge (TOK)
The TOK course provides students with an opportunity to explore and reflect on the nature of knowledge and the process of knowing. It is a core element of the DP to which schools are required to devote at least 100 hours of class time.
In TOK, students reflect on the knowledge, beliefs and opinions that they have built up from their years of academic studies and their lives outside the classroom. The course is intended to be challenging and thought-provoking—as well as empowering—for students.
The course centres on the exploration of knowledge questions, which are a key tool for both teachers and students. These are contestable questions about knowledge itself, such as: "What counts as good evidence for a claim?", "Are some types of knowledge less open to interpretation than others?", or "What constraints should there be on the pursuit of knowledge?". While these questions may initially seem slightly intimidating, they become much more accessible when considered with reference to specific examples within the TOK course.